Brilliant Coatings (P) Ltd., was started in 1976 (known as Brilliant Corporation till 1997) for manufacturing and marketing cement paints and dry distempers under the brand name "RAVICEM". This factory is situated at 79, Seshachala Gramani Street near Tollgate, Tiruvottiyur, Chennai – 600 019. The Manufacturing unit has a plant capacity of 200 tons per month on a single shift operation.
This product "RAVICEM" Super Cement Paint is of high quality with ISI Certification. This unit has a well equipped laboratory with highly qualified and trained chemists to carry on regular tests for products, raw materials and to carry out research work for continuous improvement. Constant monitoring is done as laid down by Bureau of Indian Standards since the product has an ISI licence.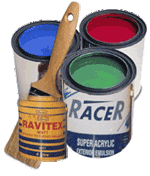 This product "'RAVICEM" Super Cement Paint is being marketed through our branch sales offices located at Chennai, Vijayawada, Madurai and Cochin and also through our C & F agencies at Trivandrum, Nellore and Coimbatore 'RAVICEM' is a very popular brand in costal Andhra, Tamil Nadu Southern parts of Kerala and Andaman islands with a dealer network of more than 500 outlets.
Since September, 2004 the brands of forty five years old organisation Ravi Paints and Chemicals Ltd. has been bought by Brilliant Coatings (P) Ltd. This has facilitated the Company to cater to the needs of the decorative and industrial market also. The manufacturing capacity of the Company has been doubled. Apart from "'RAVICEM" Super Cement Paint, presently the Company manufactures "RAVICO" Enamels, Primers, Acrylic Washable Distempers Stainers, Putty and Exterior Emulsions.

Brilliant Coatings (P) Ltd., is registered as a Small Scale Industries unit with the Government of Tamilnadu and also with the National Small Industries Corporation Ltd., a Government of India Enteprise.
Brilliant Coatings (P) Ltd., is a member of some of the prestigious Associations in this State and National level such as:
a. Indian Paint Association.
b. Indian Small Scale Paint Association.
c. Southern India Chamber of Commerce & Industries.
d. Tamil Nadu Small and Tiny Industries Association.
e. Madras Hardware and Paint Merchants Association.
In addition to Decorative Architectural Products
Brilliant Coatings (P) Ltd.,
also manufactures speciality items to cater to individual taste and requirements of large industries.